Josiah Allen and Lucy Martin Mathews House
To view a short video documenting the restoration of the Mathews Cabin, please click this link.
In 1821, Josiah Allen Mathews (b. 1803) married Lucy Martin (b. 1805) in South Carolina. They came to Clarke County around 1830. Their children were: Joshua Lewis Mathews, David Mathews, Martin Mathews, Nancy Ann Celia Mathews Hicks, Elizabeth Mathews Harrison, Lucy Mathews Summers, Josiah (Joe) Mathews, Jr., Emaline Eleanor Mathews Green, Frances Posey Mathews, Mary Mathews Morgan, Axeth (Axey) Mathews, Elijah (Lige) Mathews, Marion E. Mathews, Amanda Mathews Green and John Mathews.
In 1859, Josiah died of heart failure. David's oldest, Ellenor (Ellen) Elizabeth Mathews married Monroe Hallford on August 14, 1873. The new couple took up residence in the "old home place." By then the house had been moved from its original location east of the Mathews Cemetery about one-half mile west along the Cemetery Road.
By 1865, the house had given five men to the confederate Army (most in the 32nd and 24th Alabama Regiments). These were Josiah and Lucy's sons, David, Elijah, Marion, Josiah (Joe), and young John, who was in his early teens. The families were impoverished after the war, and both Elijah's and David's families were among the indigent receiving rations of corn and salt. In January 1865, Lucy was listed as a dependent of Elijah.
According to Lucy Oliver Dortch and her son Bill, who sold the Mathews house to the Clarke County Historical Society in 2005, the Hallfords had four daughters. Daisy Hallford Allen, Linnie Hallford Odum, Zillah Hallford Oliver, and Minnie Halford, who never married. Zillah's daughter, Lucy, was reared by Minnie when Zillah died. Lucy, only 26 days old at the time, lived in the house thereafter. She is responsible for this cabin surviving over 170 years.
The house was moved to the museum grounds and is nearly 100% complete. One inside room is left to be stain, and the end walls will be chinked. The cabin will also be wired for minimal electricity with period-looking lantern lights. This will also allow for musicians to play on the porch. Funds are still needed for these projects.
To see photos from the Cabin Dedication on Sunday, April 27, please click here.
Cabin on its original site, September, 2005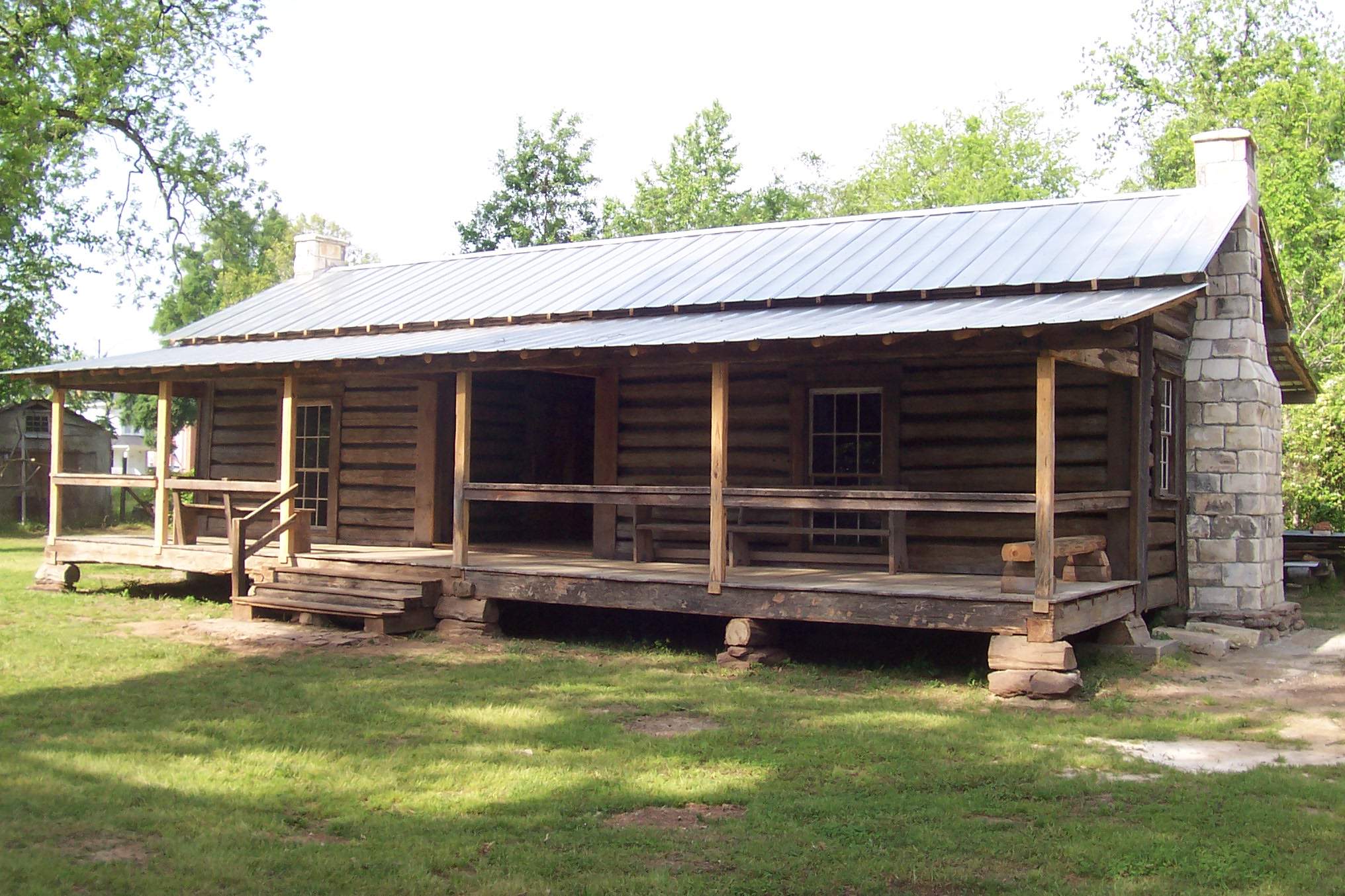 Cabin in April, 2008 following restoration.