A Few Still Carry on the Syrup Making Tradition
By Kerry Reid
There are only a handful of people in Clarke County today who make ribbon cane syrup the old-fashioned way. Gaines Pezent of Rockville is one of the last of his generation to continue this folk tradition.
Three-hundred-sixty-three days of the year, his syrup shed on County Road 15 in Jackson looks pretty unassuming. For two days in November, however, it becomes a hubbub of activity; not that the average person could tell what was taking place inside. Only the trail of dark black smoke from a kindling-fed fire and the pile of milled cane stalks offer any hint to this southern ritual.
Syrup making is an old-fashioned activity in Clarke County, but one that is remembered fondly. Many families made their own syrup, although not everyone had the right equipment. Usually, each community had someone with a mill and furnace where neighbors could bring their own cane and make what syrup they needed for the year.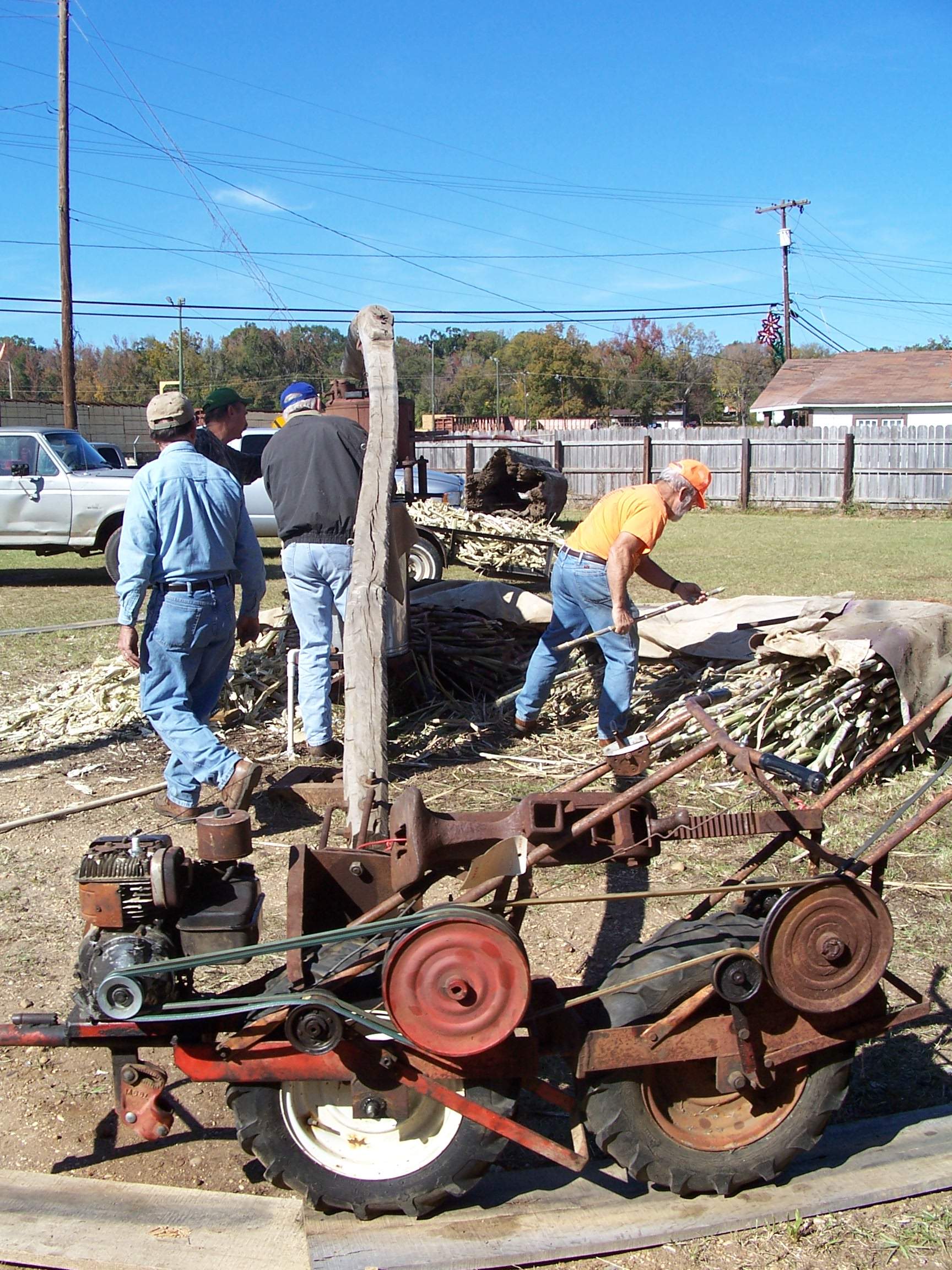 In R o c k v il le, w h e r e G ai n e s P e z e nt g r e w u p, th e r e w e r e a c o u p le o f p la c e s w h e r e l o c al s c o ul d g o. T h e P e z e nt fa m il y, h o w e v e r, h a d th ei r o w n m ill and furnace, and made syrup at their homestead, located on what is now Pezent Road near the Jackson airport. Ironically, the Pezents learned syrup making from their mother, Alice Leonard Pezent, a Winn native. Their father, John, was a Croatian immigrant, and only had experience with cold weather crops, so it was up to Mrs. Pezent to teach her children and husband this southern tradition.
"As we grew up, every year we were exposed to syrup making. When we got about five years old we had to help make it," explained Charles Pezent, Gaines's brother. On the syrup making day in November, several others were there to help out including Tommy Hart, Darrell Overstreet and Walter Davis. Mr. Gaines served as the head syrup maker, keeping his eyes on the giant thermometer peaking out above the boiling vat, and giving the others instructions regarding the timing of each step. As the day progressed, he and Mr. Charles offered a lesson on the steps in making syrup, beginning with the planting (Mr. Gaines Pezent (not pictured) has modernized the syrup making tradition by using machinery instead of mules to grind the cane).
Syrup is a Year in the Making
The fate of next year's syrup begins the year prior. Sugar cane, being a tropical or subtropical plant, must be protected from cold weather if syrup is fitting to consume. To shield the vulnerable plant, in the fall of the year, even as this year's syrup is being cooked, cuttings from the sugar cane stalks are heeled in the ground with the tops lapping over each other. Mr. Gaines offered a more visual description. "You put cane down like shingles on a house," he explained. The beds are then blanketed with cane leaves and covered over with two or three inches of dirt.
In the spring, after the danger of frost has subsided, the beds are uncovered. The fragile stalks are separated from clumps, and the tops are cut off and carefully laid in the furrow, each overlapping by 6 or 8 inches. The variegated color of each joint is what makes it "ribbon cane," and it is from these joint buds that new growth sprouts into the coming year's cane.
Once planted, cane requires adequate rainfall and little supervision other than some regular maintenance. "To make good cane you have to cultivate it…keep the grass and weeds out of it or it doesn't properly mature," Mr. Gaines explained.
Sugar cane requires a long growing season, but must be cut in advance of the first frost. A frost prior to cutting the mature cane stalks results in sour-tasting syrup, and Mr. Gaines, just as the syrup makers did before him, carefully watches the weather beginning in October. Syrup making is done only once each year, in the fall, just before the first killing frost; however if cane is properly protected from the cold, syrup making can continue into colder weather.
Syrup making Day
The syrup making day began early. Mr. Gaines arrived around 6 a.m. to start the milling process. As the cane was harvested, it was piled and fed into the mill where it changed to liquid form. In the old days the mill was powered by a mule or horse. In 2007, Mr. Gaines mechanized the process by taking two Rowbuster plows and hooking them in tandem to turn the mill.
The stalks were fed into the mill by hand, and sweet juice came out as the mill turned. Drinking the juice is a popular aspect of syrup making and is similar to licking the spoon when making cookies. The folks at Mr. Gaines's were eager to drink the juice, but more than a few warnings were issued about overindulging as the juice is a potent laxative!
As each drop of sweet juice was squeezed out, dozens of greedy yellow jackets fought for their share before it strained through a burlap-covered barrel. From there, it traveled through a tube straight into the metal building that contained the cooker.
The milling process took several hours. It takes seven gallons of juice to produce one gallon of syrup, and once enough juice had been gathered it was time to fire up the furnace.
Cooking the syrup
Syrup cooking, although easy in theory, requires much precision and skill. Because it's only done once a year, it can take a syrup maker many years before becoming skilled.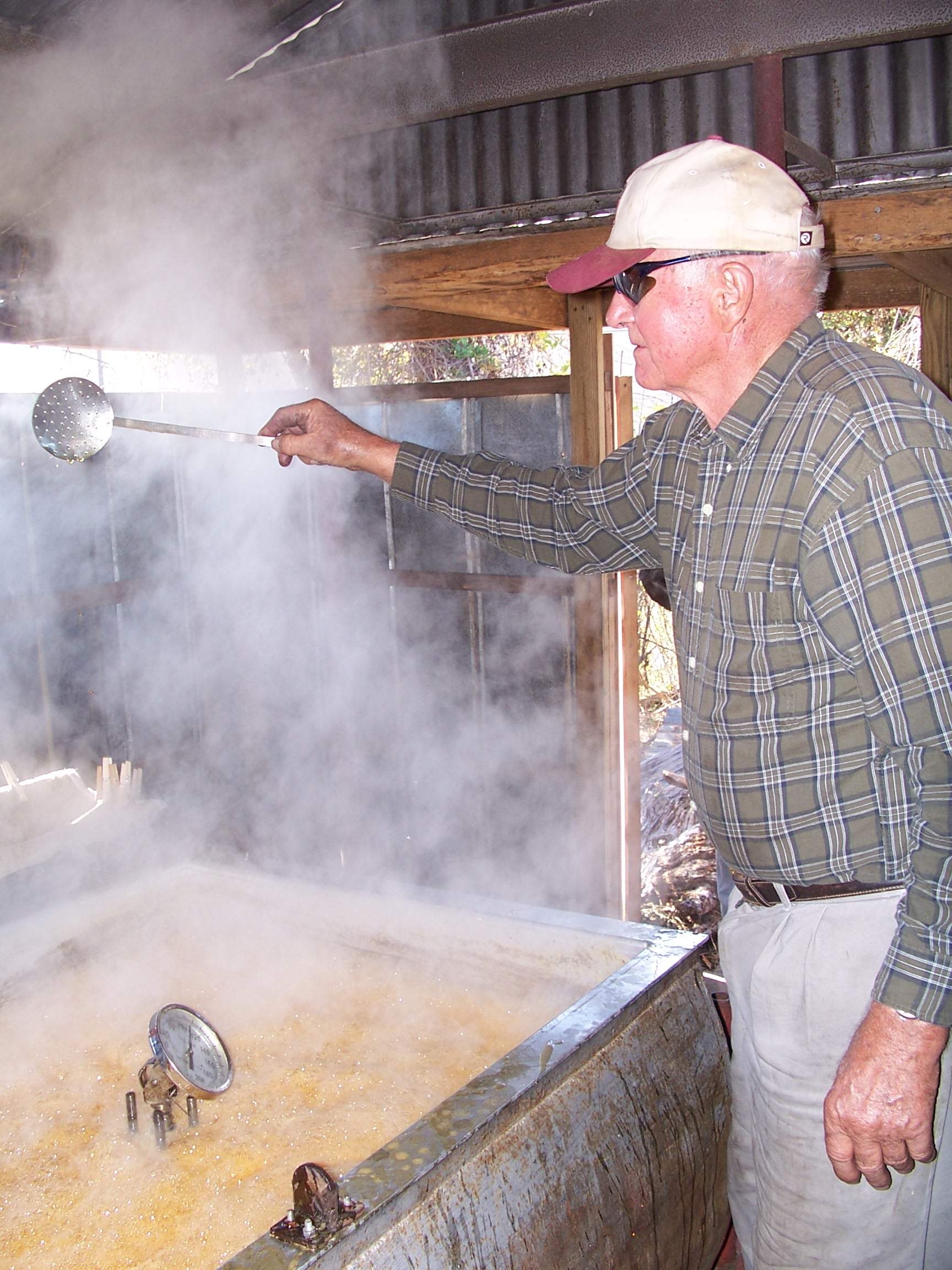 In th e o l d d a y s, s y r u p m a k e rs b ui lt fu r n a c e s o v e r l o n g tr e n c h e s w h e r e ki n d li n g o r "l ig ht e r e d " w o o d w o ul d b u r n u n d e r n e at h a l o n g p a n. T o help the juice warm slowly and cook at a steady temperature, the pan was sectioned-off with dividers, almost like a maze. The juice was poured in at one end and would cook as it traveled through the dividers. A skilled syrup maker could cook the syrup in such a regulated manner that it was the perfect temperature and consistency by the time it snaked its way to the end of the maze. Too long in one section of the pan, and the syrup would burn; not enough time, and the syrup wouldn't be done.
Mr. Gaines built a unique contraption for cooking his cane juice. Instead of an old-time rock furnace, he used an old gas tank. The tank was cut in half and sat atop a wood-burning furnace. Left, Gaines Pezent checks the consistency of his syrup before deciding if its ready.
"You begin cooking it at room temperature," he explained. "You bring the heat up rather slow. I'm watching the temperature gauge now," he said, pointing to the large thermometer poking out above the bubbling juice. "You let it get to 95 degrees centigrade and then you skim it to remove the impurities."
The skimmer looks like a large beach shovel with a wooden handle and metal pan. The "dregs", or impurities, are skimmed off several times while the juice is then heated to a full boil which is maintained through the duration of the process. Mr. Gaines explained that bubbles are another way to tell if syrup is cooking correctly. "The first boil is a flat boil with millions of little bubbles," he said. "As it goes on, you will have big blow holes."
Waiting for the syrup to cook was a social event in the old days, where many people turned out to experience the tastes and aromas brought about by this once-a-year activity. Mrs. Velma Dement wrote an article about her syrup memories in the Nov. 19, 2003 edition of The Thomasville Times.
"The once-a-year thing that all the kids and teenagers enjoyed was a visit to the syrup mill. [It was] a favorite activity for after school, and the scent of that syrup cooking could be smelled for a good long way. We hurried home to get our everyday clothes on and come back to drink the just ground juice."
Today, syrup making still retains a social aspect, and wherever syrup is made, people congregate. At Mr. Gaines's syrup shed, several other kin folks and friends stopped by to "help" out and hopefully get a pint of warm syrup.
As everyone waited for the syrup to heat, Mr. Charles fed salt pork and biscuits into one end of the furnace, and everyone eagerly sampled the pre-syrup snack. Mr. Gaines made a special point to build an oven into the back of the furnace, and Mr. Charles explained that sharing food and good company was another aspect of the syrup making process.
By 1 p.m. when the syrup was ready, the syrup makers had to act fast. As Mr. Gaines announced the syrup was done, his helpers scrambled to get into place. Mr. Gaines's gas tank cooker had several unique features to make the syrup process easier. The tank was rigged to turn sideways so that syrup could be dumped as quickly as possible. It was dumped into a tray running along side the tank and then drained through a faucet into another burlap-covered container. A second faucet regulated the syrup's journey into a bucket where it was poured into a large pot and finally emptied into pint jars for the public.
The result of this three-hour process was seven gallons of syrup. Despite the less than stellar cane-growing conditions, Mr. Gaines was particularly pleased with the quality of this year's batch. As Walter Davis and Tommy Hart rushed to fill the individual jars, tipping the urn to catch every last drop of precious liquid, Mr. Gaines held a glass jar of newly-made syrup up to the light. He explained that the clarity of the syrup tells whether a batch is good or bad. "Bad syrup looks like motor oil," he explained. This jar held a thick amber liquid, the color of golden honey. "That's pretty syrup," he said smiling.
Carrying on the Tradition
The Pezent family gradually stopped making syrup after World War II, and 52 years elapsed before Mr. Gaines tried this labor-intensive activity again. After purchasing on old cane mill about 15 years ago and taking it back to his shop, he rebuilt it and decided to put it to use. "The first time I stuck the cane in the mill, and the juice came pouring out, I was carried back in time," he explained wistfully.
He said he makes syrup mostly to carry on tradition and "for the people. I didn't eat up a whole jar of syrup all year," he said, chuckling.
His first attempt at syrup making after his long hiatus was not as successful as he hoped, though. "The first time I had a valve to drain the syrup directly from the cooker, but it didn't come out fast enough and burned," he said. "The equipment wasn't perfected properly," Mr. Gaines admitted.
He kept at it, however, and the next year, built his current furnace. He also built a traveling furnace which he has used to make syrup during the Clarke County Museum's Pioneer Day from 1999 to 2001. Unfortunately, the traveling cooker is difficult to transport, and his pan was damaged. He has yet to build a new pan in this cooker that won't burn the syrup.
Other Syrup Makers
A quick scan of local newspapers over the last few years shows that there are still a few others in Clarke County who continue to make syrup.
Kenneth Ray Reeves has made syrup for two years at his Chilton home. He built a syrup shed and a brick-mason relative made his old-fashioned furnace.
Carlos Wright, a Manila native, gave a 2004 interview in The South Alabamian about his syrup making. Although he now lived in Daphne, he continued to come home each year to make syrup. At the time of the article, Wright, a fourth-generation syrup maker, was teaching his son the tradition.
Another well known syrup maker was Mr. Oscar Allen of Rockville. According to his cousin, Jimmy Allen, Mr. Oscar made syrup for about 30 years before declining health forced him to stop. He passed away in February of 2006.
It seems even though this cool weather ritual is quickly waning from our community, there are a handful of tradition bearers willing to continue this folk history and pass it along to others. Let us hope that future generations won't miss out on the unique social experience of syrup making not to mention the sweet smells and heavenly tastes!